TRUE DIVINE INSPIRATION
ALL SCRIPTURE IS INSPIRED BY GOD! (2 TIMOTHY 3:16)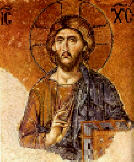 What is TRUE divine inspiration?
Divine inspiration is God seeking to express God's Nature, which is Love, throughout all existence.
It is God seeking to guide all finite beings in choosing the path of Love, the One True Way of Life.
To say that ALL scripture is inspired by God, for this statement to be true, is to say that God is continually seeking to inspire that Love be expressed in ALL scripture!
However, humanity is fallen, including even the greatest of prophets and other so-called speakers for God. And, human language is in principle unable to do anything but testify in such a way as to point to Divine Truth. Because human being and language are both imperfect mirrors of divine inspiration, the message can become corrupt and distorted. It can even become twisted into an outright lie.
Scripture is NOT the pure, undistorted Word of God. The living expression of Divine Love, the Living Word, Jesus Christ IS!
To the extent that Love is NOT expressed in scripture, whether it be the Bible, Talmud, Koran or any of the other scriptures of humankind, it is the expression of the Spirit of Falsehood, the Spirit of Antichrist!
Wherever, and in whatever historical religious context, Love is expressed as True God and True Life, there Truth abides. There, divine inspiration is truly expressed! We see imperfectly, yet "face to face" (1 Corinthians 13:12)!